Offerings
To support its unique set of consulting service groups, Archemy™ uses an Agile Enterprise Architecture Management (AEAM™)-driven business technology consulting approach that further divides Archemy's service lines and assembles them into strategic and tactical service areas and sub-areas. The AEAM™ approach leverages a proprietary Enterprise Architecture Management framework that enhances TOGAF© with knowledge and innovation management as well as other capabilities. The AEAM™ approach allows the creation of custom sets of Enterprise Architecture-driven offerings based on more granular phased-activities defined in Archemy™'s ArchDev™ business technology solution development life cyle methodology. ArchDev™ and its Architecture Evolution Life Cycle (AELC™) complement and address DevOps inefficiencies in the area of architecture management. AEAM™ works hand-in-hand with Archemy™ Knowledge Management Tools Suite to provide optimal support for innovation management, architectural evolution, and reuse of best practice assets at each step along the way. AEAM™ guides the selection of methods to follow and suitable approaches to solving business problems are arrived at by piecing together services offered by Archemy™ as part of its consulting service lines. Archemy™'s combined practice of Enterprise Architecture guided innovation and adaptive reuse via knowledge management helps its customers drive successful transmutations by architecting and delivering competitive, sustainable, and cost effective solutions.
As noted in the above, Archemy™'s service lines are granular and they can also be tailored and pieced together via AEAM™ to the level at which they are delivered (i.e., Enterprise, Portfolio, or Project level) to match the specific needs of customers on a per consulting project basis. In addition, the actual processes corresponding to these service lines have been implemented and packaged into offerings that can be executed using Archemy™'s EAMTk™ BPMaaS tool. For each service line, Archemy™ offers separate service areas that are either strategic or tactical as follows: Innovative Business Transmutation Strategic (IBTS™) services and Innovative Business Transmutation Tactical (IBTD™) services. These two service areas each focus on guiding and driving people, processes and technology as part of the Innovative Business Transmutation (IBT™) strategy elicitation and strategy execution respectively. Each one of these two service areas are further divided into two respective service sub-areas including IBTS™ Vision and Strategy & Planning, and IBTD™ Governance and Architecture Management.
For more information on Archemy™'s strategic and tactical service offerings, click on the respective tile images below to view a description of the corresponding service offerings in a popup viewer, or just click on the tile title to open their descriptions in a new browser tab.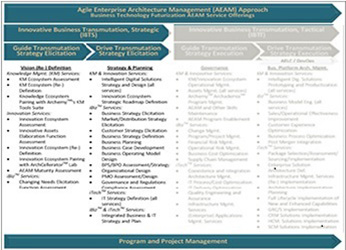 AEAM Futurization Strategic Offerings
The IBT Strategic AEAM™ Futurization service area focuses on guiding and driving people, processes and technology to elicit an IBT™ vision and an associated strategy/plan for a futurization transmutation. It is comprised of two corresponding sets of AEAM™ service offerings that are described in detail in the tile description document.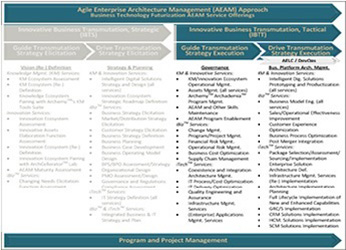 AEAM Futurization Tactical Offerings
The IBT™ Tactical AEAM™ Futurization service area focuses on guiding and driving people, processes and technology to execute an IBT™ futurization transmutation strategy. It is comprised of AEAM™ service offerings sets for Governance, and Bus. Platform Architecture Management that are described in detail in the tile description document.